My friend, Kimberly, and I can say this in truth...because not only are we bloggy buddies, we actually live int he same city and have seen each other in person randomly, like 2 or 3 times. Why haven't we met up on purpose yet? Your guess is as good as mine, folks!
Anywhoodle...she is doing a Gift Giving Series on her blog this month.
It's all about giving handmade gifts...and she invited me to guest post!
I will be doing my guest spot a little later in August, but you should most definately check out all the other GREAT ideas!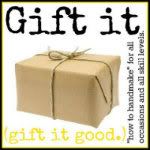 <a href="http://bugaboominimrme.blogspot.com">><img src="http://i799.photobucket.com/albums/yy276/kbmueller/giftit-1-1-1.jpg"/></center>